SUPER SUNDAY just got more SUPER with many ways to ANSWER THE CALL
Connect with Community • Make a Gift • Do a Mitzvah
Still time to sign up for our community havdalah! Click here!
---
EVENT CO-CHAIRS:
Danielle Weiss and Mitch Sterling
SATURDAY, MARCH 6

Time: 7:30 p.m. – 8:30 p.m.
Virtual Havdalah featuring
Joey Weisenberg, of Hadar's Rising Song Institute
Let's join together to mark this special moment in our week and set forth intentions to support our community in the coming days.
After Havdalah, stay on-line to schmooze in one of our many Schmooze & Share Rooms hosted by community members.
To register click here.
Schmooze & Share Room Hosts:
Joe Glassman, Abrams Hebrew Academy and Foundation for Jewish Day Schools

Shira Goodman & Sharon Levin, ADL & Barrack Hebrew Academy & Foundation for Jewish Days Schools

Jared Rosenbloom & Jared Schwartz, BBYO

Merry Madway Eisenstadt & Howard Greenberg, Bucks County Kehillah

Carol Shore, Camp Galil-Habonim Dror

Lisa David, Camp Harlam

Rabbi Joel Seltzer, Camp Ramah

David Mink, Center City Kehillah

Darren Rabinowitz, Jacob Marder, Naomi Isaac-Hyman, Maddie Hoffman & Leah Spector, Diller Teen Fellows

Lauren Gladstone, Friendship Circle (Philly)

David Simon, Golden Slipper

Kathy Elias, Gratz College

Jessica Gold, Honeymoon Israel

Debbie Rosenthal, Jewish Learning Venture

Anna Boni, JFCS

Bill Glazer & Jon Morgan, JFRE

Bill Novick, JRA

Amy Krulik, Kaiserman JCC

Mary Relles & Barbara Rosenau, Kehillah of BuxMont

Glenn and Rohna Paskow, Kehillah of Chester County

Robin and Steve Katz, Kehillah of Old York Road

Barbara and Steve Shotz, KleinLife

Andrew Paris, Kohelet Yeshiva & Foundation for Jewish Day Schools

Beverly Socher-Lerner, Makom Community

Jon Erlbaum, Mesivta High School & Foundation for Jewish Day Schools

Neal Strauss & Alexander Narita, Moishe House

Eve Berger, Moving Traditions

Mitch Sterling & Danielle Weiss, National Young Leadership Cabinet

Amanda Brecher & Rav Meir Freund & Jared Rosenbloom & Jared Schwartz, NCSY & BBYO

Jon Alexander & Tara Cherwony, NextGen

Jacques Lurie, Northeast Jewish Life, Congregations of Shaare Shamayim

Avidan Baral & Allison Shapiro, Penn Hillel

Cindy Rubin, Penn State Hillel

Adam Wodka, Tribe 12

Sharon Cohen, Tzofim-Israeli Scouts

Marcy Bacine, Women of Vision

Jayne Perilstein & Julie Savitch, Women's Philanthropy
SUNDAY, MARCH 7

Time: All Day
Answer the Call - Your support of the Jewish Federation is more important than ever. Sadly, we cannot join together in person to reach out and make calls to ask for your support. But, you may still receive a call from a professional service we have hired to safely connect with you on this critical day.
Make a Donation On-Line - Click here to give.
Call the Phone Bank - 10:00 a.m. - 5:00 p.m. Call 215.832.0899 and a Jewish Federation team member would be happy to process your gift.
Respond to a Text Message - If we have your cell number and reach out via text, click and respond.
Please answer the call and give when asked!

Time: 10:00 a.m. – 2:00 p.m.
Drop off a bag of food to one of the five Mitzvah Food Pantries across the community or Shir Ami Congregation in Newtown and help ensure that those who are hungry have access to food. Click here for a list of pantry locations. Questions? Contact dmulligan@jewishphilly.org.
Requested Food items include:
Passover Foods - Gefilte fish, Grape juice, Horseradish, Matzo meal, Matzo, Kosher for passover cereals, crackers and snacks, etc.
Personal Needs - Diapers & Women's Feminine Hygiene Products (pads/tampons)
More info: Download our Food Drive Fact Sheet
*Curbside donation only. Staff will take your donation from your trunk. Drop off Rain or Shine. All staff will follow COVID protocols.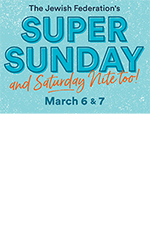 Call 215.832.0899 with any questions.